In the age of remote work, special emphasis must be given to data backup. With big companies doubling down in the pursuit of digital transformation, data backup has become even more important to reduce data loss by migration, human errors, or cyber-attacks.
Besides, backing up your data is the best practice to follow in the IT setup. It ensures data safety in case of disaster, data theft, or loss so that your business can resume smoothly with a recovery process in place.
It saves your time to get back online as soon as possible. In Salesforce, this is as significant as other software integrations or security solutions. Especially because CRM software integrates with many tools – and keeps adding records or changing fields every moment of the day.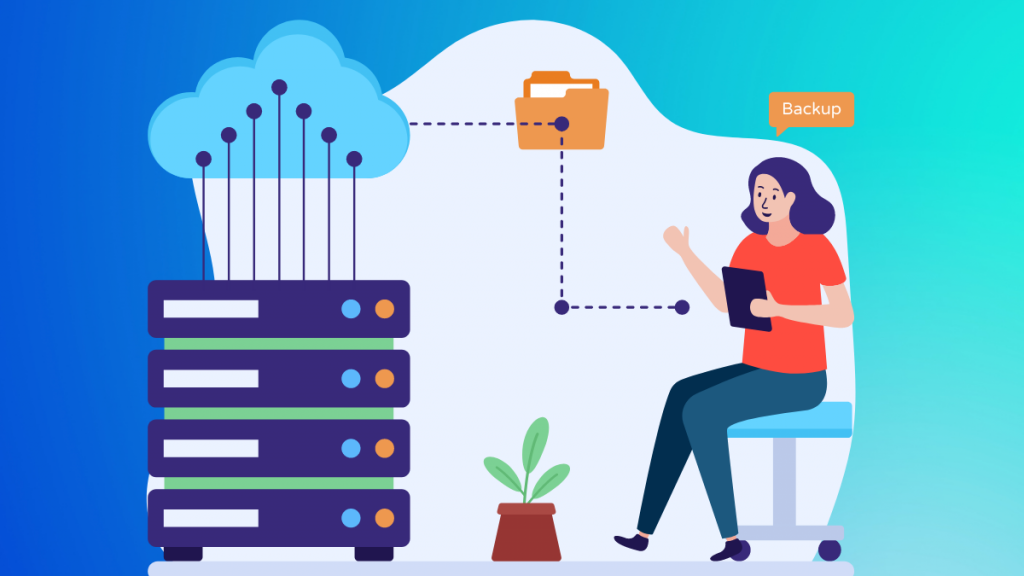 The Salesforce data backup and recovery solution comes with many features- so you can utilize them based on your needs. Customers will be able to automate the daily backups of customized objects and standard objects in Salesforce.
Besides, it helps restore the backup data while also auto-deletes old backup data after a specific time interval. The solutions help perform automatic audits on modifying and running backups.
The Salesforce data backup and recovery process is to automate the whole process – and simplify the way things work in the company. It enables the users to step into the time machine- with a single click and get the data back when there is a complete loss of data.
These solutions work on more modern and connected distributed features. As a result, it focuses more on customers' needs, provides more agility, and helps to increase productivity.
Also, it empowers the admin to take control over the data and continuity of business plans. Besides, it gives the customers the tools to create space for comprehensive backup within a few clicks.
Why Salesforce Data Backup and Recovery is Needed?
Data loss due to outages – Outages cause risk to any software – and CRM like Salesforce is no exception. It can cause data loss for companies with 'orgs.' With no access to CRM, the companies are unable to operate for the duration of the outage. Besides, the data added to 'orgs' in hours are also at risk of loss.

Integrations can corrupt the data – Salesforce integrations are designed in a way – that can alter or move the data. These tools adversely affect the data if not integrated properly. Integrations can also corrupt the whole information causing a considerable loss.

Data loss by human errors – Mistakes is bound to happen, and they can occur with Salesforce admins and developers. A small human error causes errors – that can disrupt the whole system. In some instances, data can be deliberately deleted from the system.
What are Salesforce Data Backup and Recovery Options?
Salesforce data backup and recovery is a paid service offered by Salesforce, which helps the customers recover their lost data. If the data gets deleted and you don't have any recovery option, the Salesforce data recovery is your last resort.
It can retrieve the lost data in no time. But to recover the data through the service, you will have to request the service. And it may take about six weeks to recover your lost data. At times, the recovered file may not include complete data – but it depends on the service you choose.
Native Salesforce Data Backup and Recovery Options
Salesforce backs up your data to support the disaster recovery plan in case of failure. And as a part of the Salesforce recovery service, the data is made available to you when you need it. Although, according to Salesforce, it is better not to rely on the service. The software offers Salesforce data backup and recovery options like:
Data loader – Data loader allows you to perform different mass data operations like – the export, import, or delete option. Plus, it gives you complete control over the data you will export. The whole process is manual but can be time-consuming.
Data export service – lets you perform a complete manual and scheduled export of your data on a weekly or monthly basis. It backups up your data using the Salesforce UI. Additionally, it prepares the data for export in a set of CSV files.
Report export – is the best way to manage your Salesforce data and export it using the reports interface. It's the simplest way to export the data.
Recycle bin – The data in recycle bin is stored for 15 days, and you can retrieve vital data you lose during this time. In addition, it lets you retrieve the data that is accidentally deleted. However, after 15 days, the data will be automatically deleted.
Salesforce Recovery Service
Salesforce recovery service is a paid service by Salesforce that helps customers recover their lost data. If the Salesforce data is permanently deleted or you don't have any other backup system in place, the Salesforce recovery service is the last option.
It retrieves any lost or deleted data back to a specified point by placing a request within 15 days. However, the service can be expensive and time-consuming.
Salesforce Data Backup and Recovery: How-to and Options
Salesforce provides many free tools – that help takes a backup and recovers the data. Here are some options to consider for simple backup solutions:
Manual data export lets you export the data via the Salesforce UI.
Data export via the report – manual export of your data via the report.
The data loader for import and export lets you manually export the data via the API option.
How to Recover the Lost Records with Salesforce:
Troubleshooting
Before looking at recovering data, confirm if the data is gone.
Determine if all the records have been transferred to another user. You can reach out to the system admin or the user to view all data to see if the form exists.
Check if you can find the records in the related list by choosing other methods.
The data to search may have been presented to other records, resulting in disappearing from the existing list.
Ask the admin if the changes have been made to the organization's sharing rules – that affect the visibility in the records.
After review, if the data or the records have been deleted, you will need to determine if the information is available for recovery:-
Access the recycle bin and change the drop-down to recycle bin. You can search for missing records or sort the data to review it manually.
Request that your system admin checks for deleted records using the export all function in the data loader.
Reach out to the system admin to see if the data export has been performed recently to back up the company's data.
If you cannot find a backup solution, you can recreate the records by choosing a suitable way to import data. You can consider three things:
All the recreated records will receive an ID. Therefore, these records should be considered while restoring the lost data related to other records.
When you replace the ID of the prior record with a new ID, you will need to do it externally. You can use excel vlookup feature for this.
If you can find a backup created by ID – you can retain those details. Use the 'enable create audit fields' to recreate the record.
Besides this, there are many third-party offerings for backups offered by different companies, but that won't give you the backup provided by Salesforce.
The Challenges of Restoring the Data
Salesforce allows backup using a Salesforce weekly report. In addition, it is a native tool that enables you to export the data backup. And depending on your edition, it is easier to backup your company's data on a weekly or monthly basis.
The output from the Salesforce weekly report comes in a different Zip files bundle that contains CSV for customized and standard objects. But, regardless of many advantages, the weekly report and backup have many challenges. And you should be aware of all the challenges before you integrate with the platform or use the backup services.
The weekly report runs once a week and not daily or hourly. Many platforms and apps provide backups hourly, but this isn't the case with Salesforce weekly reports. It means you can lose data up to seven days' worth in Salesforce. In addition, you can lose the data that was changed or deleted between the backups.
At times, heavy Salesforce traffic delays export delivery. For example, your first request may be in the queue- when you make the subsequent request, it can be time-consuming.
Salesforce offers a 48 hours window to download the weekly report. However, it is not feasible for complex and large companies with time constraints.
The backup files from the recovery are often stored on laptops or non-approved media, creating a potential security threat.
Restraints caused by recovery and reports may cause you not to meet the compliance standards.
The biggest challenge remains restricting the data and relationships from your backup. Plus, while recovering the data from the weekly backup report, there are added steps to follow. But, automating the Salesforce backup and recovery solution can give you complete peace of mind.
AOC: The Data Savior
Salesforce offers data backup and recovery, but it might cost you extra. Plus, classic Salesforce backups are not always sufficient. Also, in Salesforce, once you choose a backup, you will have to select an object for backup.
It is up to you to back up the entire object or make changes in the recovery process. You have another option of exporting your data through CSV file, excel file, or XML. But, it is not that simple to recover the lost data from these files, and you may have to put in the effort.
However, if you are looking at effective Salesforce analytics, you will need a reliable Salesforce data backup and recovery solution. And ArchiveOnCloud (AOC) is that perfect solution precisely for these reasons.
AOC enables complete stability across all your data needs, giving your business the continuity, it deserves.
AOC helps to backup important data and keep it safe in every situation.
Other backup solutions apart from weekly exports that Salesforce offers can't be compared to AOC for all its features and data safety points.
While the backup might not be enough, you should be able to recover the lost data from the system.
AOC gives you time-saving single-click backup recovery options.
It keeps track of data versioning, so you won't ever lose your important data.
A Quick Recap
You can prevent data loss with Salesforce data backup and recovery solutions. It protects against various human errors and data loss due to unforeseen circumstances. Plus, you can get automatic data backup in a few steps, so you don't have to wait till you recover your data back.
The feature lets you minimize the efforts by recovering your data in no time. Moreover, you can stay compliant with the recovery process – and satisfy various industry standard requirements.
Salesforce customers enjoy a rich technology ecosystem with specialized backup and native solutions. Besides, it offers a direct response so that demand will continue to find additional ways.
The solution you pick matters the most because your business depends on the recovery process. So always have answers to:
What would the final restore process be in the event of a loss?
How long will the whole process take?
How will it impact your business?
What are the countermeasures?
How many Salesforce deployments are you performing monthly?
· Deployments always have some risks associated with data, so consider them as well.
Salesforce data recovery is a paid service – so you might have to shell out extra money for the recovery process. In addition, it is a manual process, and it can take up to six weeks for recovery. So, make a wise choice in getting a data backup and recovery service.
Are You Ready to Backup You Critical Data?
When disaster strikes, your business data can be lost in an instant. To protect your most important data, you should back up on a regular basis and make sure it is accessible wherever you need it. One of the best ways to do this is with ArchiveOnCloud (AOC), a Salesforce data protection tool from Webuters. AOC is a new age technology-based Salesforce data backup and recovery solution that allows you to create secure backups of your data and offers easy restore. This way, if disaster strikes, your critical data will still be available to you. Want to know more about it, Try AOC with a demo, talk to our experts today!