Salesforce users have access to both native Salesforce backup solutions and third-party data backup and restoration options. The Salesforce Data Backup Service was discontinued in July 2020 but was reintroduced in March 2020. To ensure optimum security and performance of Salesforce data, users must understand a number of things about Salesforce backup and data management. In this article, we'll look at some frequently asked questions and the answers provided by experts.
Top 10 Frequently Asked Salesforce Questions & Answers
1. What Tools does Salesforce Use for Data Backup? 
It's a prevalent misperception that cloud-based applications like Salesforce don't require backup. While cloud service providers will handle disaster recovery in the event that something goes wrong on their end, this does not apply to everyday use. In fact, even when data is stored in the cloud, users may remove or overwrite it, necessitating the usage of an adequate backup strategy.
Salesforce comes with a number of native solutions for backing up your data. The majority of these programmes are manual and will only export your data, not restore it if it is lost.
Salesforce's Backup & Restore feature, which debuted at Dreamforce 2021, is an exception, but yet there are limitations.
Data Backup- Salesforce's most complete backup solution is Backup & Restore. It is a paid add-on for data backup and restore. 
Data Export Service- Using the Salesforce UI, you may perform a manual or scheduled backup of your data. Your data will be organized into a set of CSV files as a result of this. 
Data Loader- You can use the Data Loader to export data. This approach necessitates more manual procedures but gives you greater control over the data you're exporting. 
Report Export- Using the reports interface, you can easily export data from Salesforce. 
2. What is the Salesforce Data Backup and Recovery Feature?
Salesforce announced a new native utility, Backup & Restore, low-code data protection, and recovery service on September 22, 2021. The CRM behemoth has come up with this solution that will allow users to backup objects, files & attachments in Salesforce on a daily basis. Users will be able to recover backed-up data and have old backups automatically deleted after a set period of time. However, Salesforce has introduced such a service, but why didn't they introduce it earlier? Why does Salesforce recommends third-party backup and restores? Remember Salesforce has introduced a paid add-on? It keeps data for a limited period of time.
Yet you don't have complete control over your data!
3. What ​is the Best Tool to Backup Salesforce Data? 
AOC (ArchiveOnCloud) is a very secure Salesforce data protection solution. It was created with the goal of entirely protecting critical corporate data in the event of a disaster. AOC is for you if you want to protect your Salesforce data from non-recoverable data corruption. It's a system that not only protects your data, but also lowers expenses, helps you comply with regulations, and builds resilience in your business.
You can now handle, copy, and recover data with ease. The best feature of AOC is that it supports databases like MySQL and the history of changes you made to records. During data backup, you can relocate your Salesforce data to a database of your choice and restore over clicks. And the best part is you have complete control of your data.
4. What are Some of the Best Practices of Salesforce Data Backup?
The 3-2-1 backup rule is perhaps the most widely used best practices for Salesforce data backup. This guideline states that relying on a single backup source is insufficient. Instead, for enhanced security, businesses should store their backups in many locations. It suggests keeping three copies of the data on two distinct storage mediums and one off-site storage option. The 3-2-1 backup approach assures that your data is always backed up and recoverable, no matter what happens.
5. Is Salesforce Data Backup Affordable? [Plus, Affordable Alternative]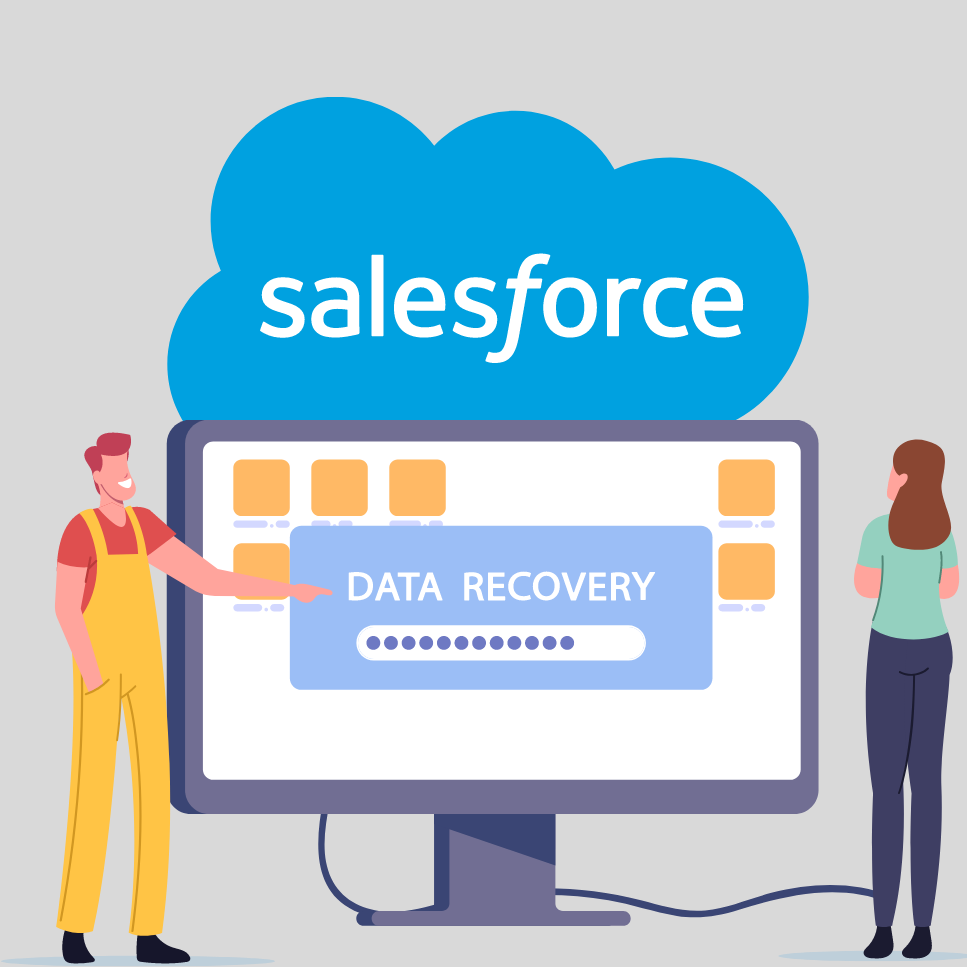 The Data Recovery Service costs $10,000 per use, and recovering data takes 6 to 8 weeks. While knowing that Salesforce could save the day if the worst happened was comforting, actually employing the service is not a decision to be made lightly. If you're searching for a more efficient backup solution that is robust and flexible, we propose AOC. It's less expensive, quite simple to set up, and does a great job with backups and recovery.
6. Why Relying only on Salesforce Data Backup isn't Safe?
For Salesforce backup, administrators, power users, and end users have the following options:
Recycle Bin — Salesforces keeps user-deleted data for 15 days in the recycle bin. Data in the recycle bin is permanently erased after 15 days.
Manual Export/Restore – Administrators and power users can export all of their CRM data to CSV files that can be stored to a local machine manually or on a schedule. Using tools like the Salesforce Data Loader, you can import data from these exports back into Salesforce.
Although it's fantastic that these choices are available to all clients, relying solely on native Salesforce backup tools is frequently insufficient, which is why we recommend AOC, which is cost-effective, secure, and provides powerful backup for data loss.
7. How Often does Salesforce Backup its Data?
You can manually create backup files once every 7 days (for weekly export) or once every 29 days (for monthly export) (for monthly export). You can only create backup files every 29 days in Professional Edition and Developer Edition.
8. How Long does Salesforce Data Last? 
The maximum duration you can have a backup is 29 days, and if you think your data is safe in Recycle bin, you are wrong. Recycle bin keeps the deleted data for 15 days and permanently deletes it after that duration. And that's why Organizations using Salesforce rely on third-party services for Salesforce backup and recovery, what will you choose?
9. What steps should I take to ensure that the Data Export is done as Fast as Possible? 
You will be placed in multiple queues depending on the size of the export file you attempt. Export files with less data may be placed in the smaller queue, while those with more data may be placed in the bigger queue. To ensure a faster data export for items, you can use the following tactics.
Plan ahead of time- Because you won't be able to predict how long it will take based on how many requests are in the queue, you can try to give yourself an adequate buffer period by scheduling your data export ahead of time.
Select only the objects that contain the information you require – You will be able to lower the size of your export file as a result of this.
● Choose the objects only which have the data you need – By doing this, you will be able to reduce the size of your export file, which will further help you be in the smaller queue, which may be moving faster.
● Examine the possibilities of including papers, photos, and attachments in your selection. This is an export that will lessen the time it takes to complete once in a while.
● You should also make an effort to keep the number of deleted data to a minimum. To limit the volume of hard delete records, try to clear the recycle bin whenever possible and have Salesforce support conduct physical releases against the organization.
● Also, think about changing the export schedules in terms of date and time. Exports are frequently scheduled towards the end of a specific calendar week by various organizations. However, choosing off-peak times and days to help lessen the waiting time is optimal.
10. Is Salesforce Data Recoverable?
Without initially recovering the information, Salesforce data cannot be restored. Because data cannot be recovered to parts that do not exist. You Thus, developing a routine data backup & restore strategy through automatic salesforce data recovery & backup of your data plus versions of data is critical. All of your data is safely backed up by AOC to a database of your choice. Furthermore, it provides you with the most secure Salesforce backup solution, allowing you to preserve control over your data.
Bottom Line
One of the biggest concerns about Salesforce is the possibility of data loss. What if you lose your data? It will have an impact not just on you, but also on your customer relationships and other projects. That's where AOC can help by backing up the data and ensuring its safety in any circumstance. Traditional automated backup systems pale in comparison to AOC. While simply backing up data is insufficient, you should be able to recover it as easily as backing it up. AOC provides one-click backup-recovery and keeps track of data versioning, ensuring that you never lose critical Salesforce data.
If you've ever lost data, you understand how upsetting it can be. Switching to ArchiveOnCloud (AOC), a Salesforce data protection product, that keeps your data safe even in the worst-case scenarios, is the best method to avoid losing your data. If you'd like to learn more about how AOC can help your company, contact our technical expert now.